Sea lions in the Valdes Peninsula – Argentine Patagonia
In the animal world, the survival of each species is based directly upon the need for reproduction. With many mammals, as is the case with Sea Lions, the physiological and unconscious need for numerous offspring causes the males to establish large harems, allowing them to mate several times a day over the entire reproductive season.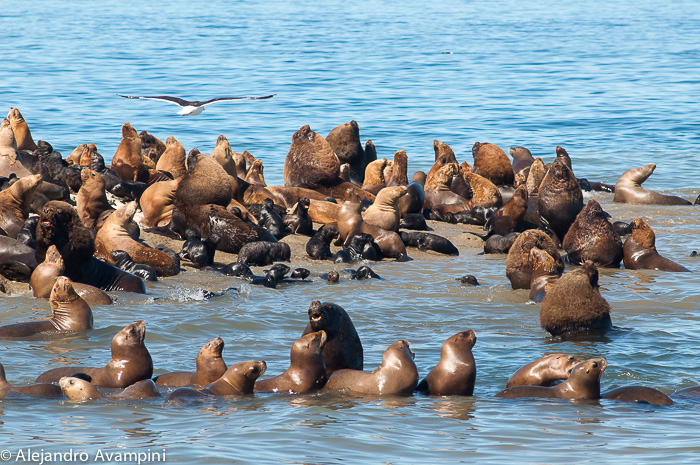 ————————————————————-
Del Nomade Eco Friendly Hotel
We will gladly answer your question 😀


+54 92804635649
Send an email to:
info@ecohosteria.com.ar
We will respond promptly.
Thank You
————————————————————-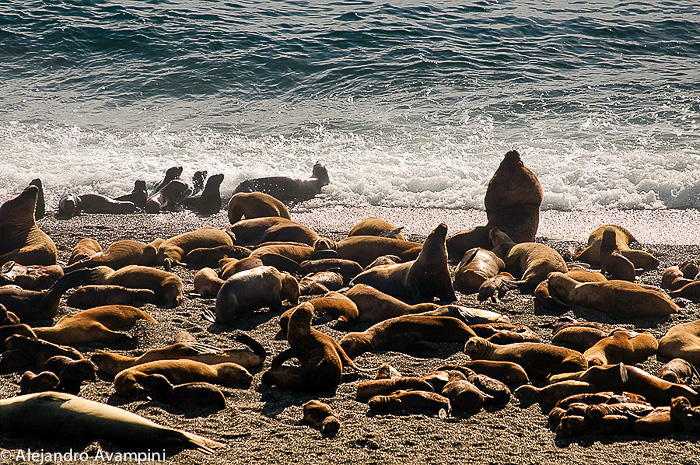 With female Sea Lions the situation is different due to a prolonged gestation period, allowing for the birth of just one pup per year. Due to this slow reproductive cycle their evolutionary process has permitted a relatively long life span, in order for each female to produce as many pups as possible over her extended fertile period.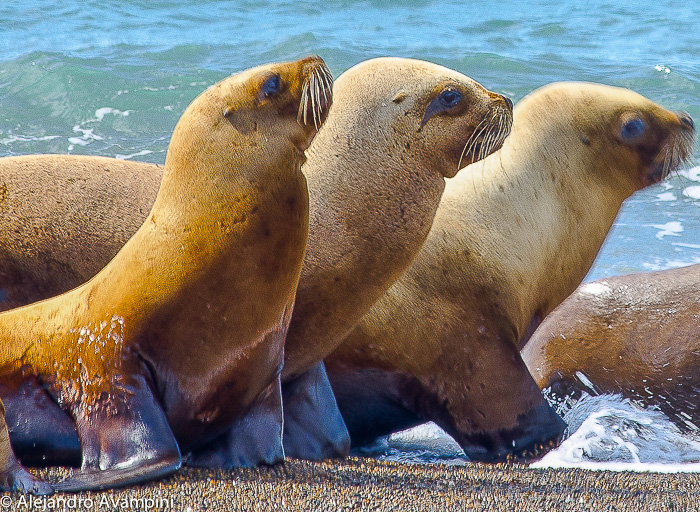 Female Sea Lions enter into their reproductive maturity at the age of 4. From the end of February through the end of March females will go into ¨heat¨. Over this month of reproductive activity the males will fight to establish their harem. After a 10 month gestation period the female gives birth to a single pup and incredibly, just a few days after the birthing process, she will once again become pregnant.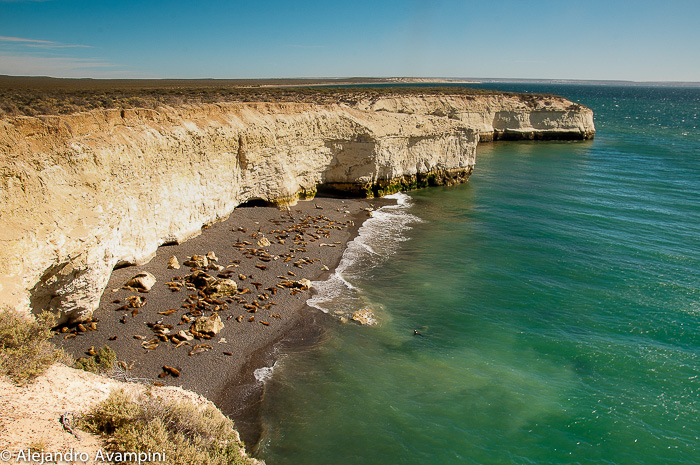 The gestation and birthing cycle is repeated year after year over the stretch of her entire life, affirming the fact that she will live in almost constant state of pregnancy. During the summer season at Punta Piramide it is not just an expansive maternity scene but more so one of the largest reproductive Sea Lion colonies in the Valdes Peninsula. The density of Sea Lions here is obvious, where as many as 3,000 individuals can be observed each season.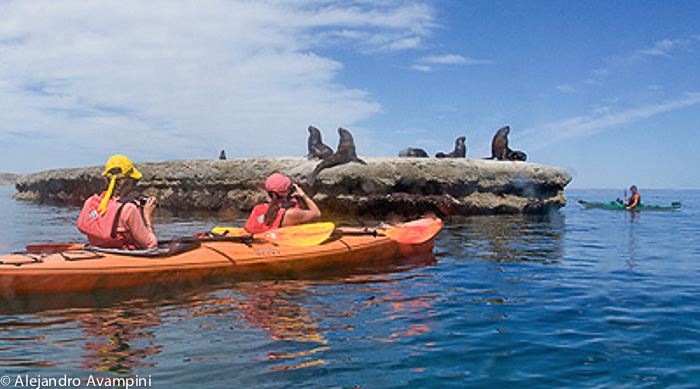 During autumn, winter and the better part of spring, most of the Sea Lions will be found at their habitual colonies in Punta Alt and Punta Loma. During their reproductive season the adult males and females will be found at Punta Piramides, while the juveniles remain in the non reproductive colonies.
Just 10 days after birth, the Sea Lion pups can be found spread out over the entire colony, moving amongst the males and females over a less than 1 kilometer stretch of rock reef that is covered with thousands of individuals. The pups can be easily differentiated from the rest with their small size and darker color, as they begin to familiarize themselves with the sea, that liquid environment that will be their home and only source of food during most of year.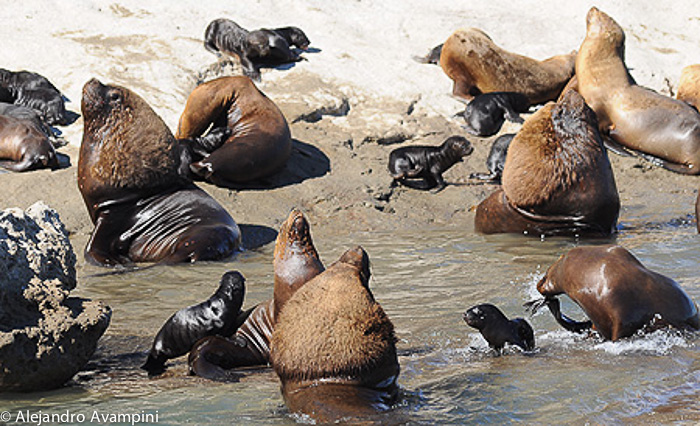 The One Haired Sea Lion´s life cycle varies with the changing seasons. In December the males will prepare their harems anywhere from 2 to 12 females in the reproductive colonies. From January through February the pups are born, just one pup per female, and in a matter of just a few days she will once again go into ¨heat¨. The pups will continue to nurse from birth through May and during this time, most will return to their habitual, non reproductive, colonies at Punta Alt, Punta Loma, Punta Ameghino, Las Charas, amongst the many colonies in Golfo Nuevo.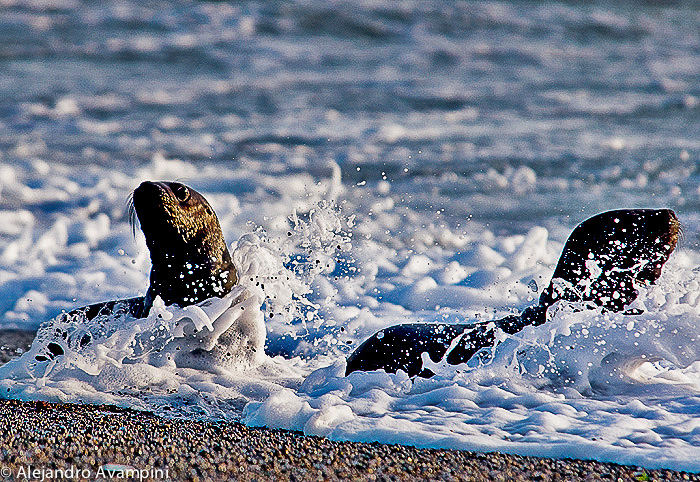 During the months of May through November, the females will continue to nurse their pups and the structure of the harems will dissolve. Sea Lions are great free divers and can support high pressure, diving to as deep as 150 meters and holding their breath for close to 7 minutes.

An adult male can weigh as much as 300 kilograms, the female around 100kg and the pup, in the order of 12kg. The males measures as long as 2.3 meters, the female 1.8 meters and a pup reaching 80cm.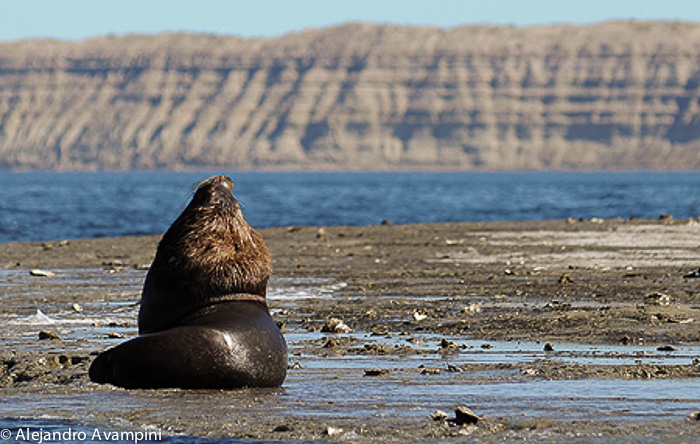 ————————————————————-
Del Nomade Eco Friendly Hotel
We will gladly answer your question 😀


+54 92804635649
Send an email to:
info@ecohosteria.com.ar
We will respond promptly.
Thank You
————————————————————-
Their weight is relatively little when compared to the Elephant Seal, with a male weighing as much as 8 times more than an adult sea lion and being more than twice as long. The lifespan of a Sea Lion oscillates between approximately 15 and 18 years.Sea Lions feed primarily on fish, octopus and squid. The adult male has a large neck and head covered with a mane and is darker in color.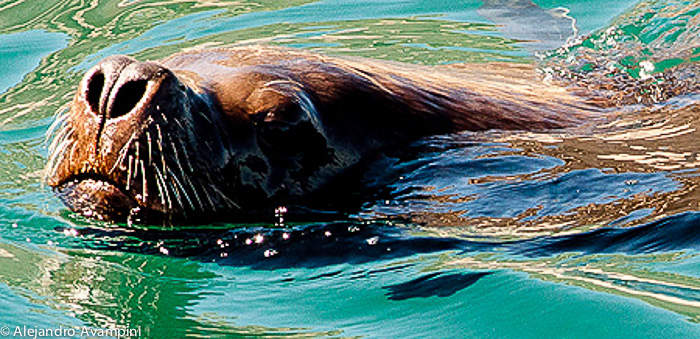 As of a few years back, the authorities responsible for the administration and protection of the Valdes Peninsula have offered special permits to the certified sport diving companies in the area, allowing for swimming and diving at specific nonreproductive sea lion colonies. This is an unforgettable ¨must do¨ experience.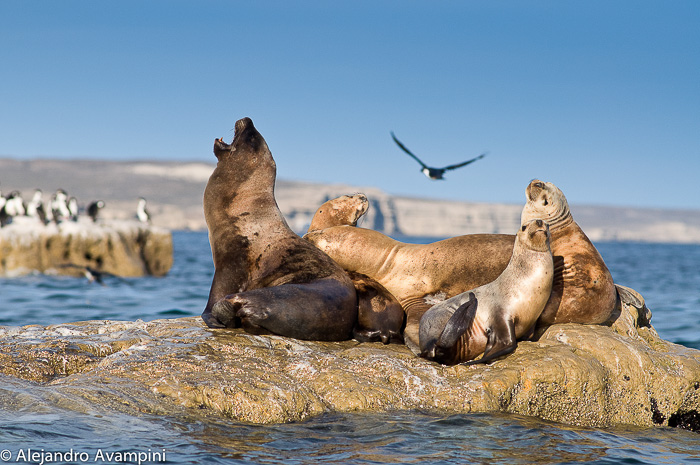 On land Sea Lions will establish family groups of six to twenty individuals, the average being from ten to fifteen per family, though sometimes the groups can be much larger. When a dominant male dies and is not replaced, the individuals from this group will merge with another, thus forming a larger a larger group.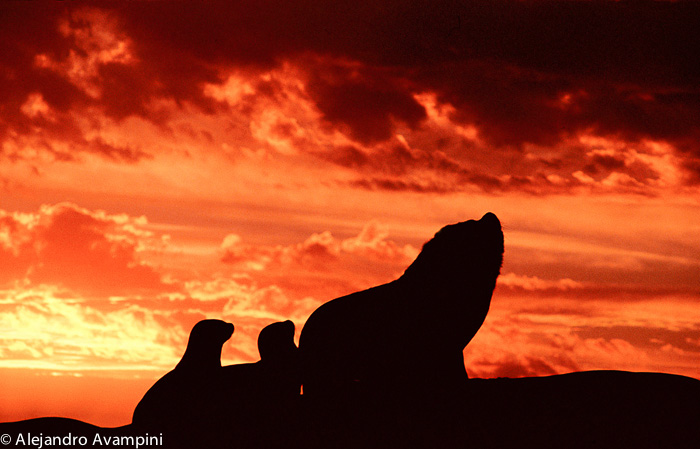 The Shared History of the Sea Lions and Man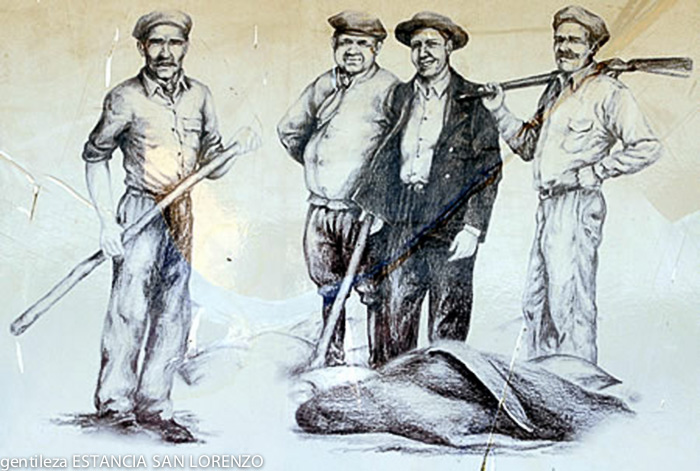 The coastal sea lion population was greatly affected as a direct result of the killing of these animals for their skin and fat. In the Valdes Peninsula alone, more than 260,000 individuals were massacred from 1917 to 1953. During this same time frame, the number of individuals processed is Argentina was well over one half million. Over most of the last century this commercial activity was regulated, and in 1953, the killing of the One Haired Sea Lion was prohibited. Today, more than sixty years after having suspended hunting, the total population of Sea Lions in the Valdes Peninsula is estimated at 20,000 individuals, less than the number killed per year during the height of the commercial processing of these animals. Those that made a living in the killing of Sea Lions and Seals were known as ¨Sealers¨, and the way their job was carried out was bloody; with long, heavy wooden clubs they would beat the animals over the head and snout until dead. Today, in the Valdes Peninsula, the relationship between Man and Sea Lions is very different.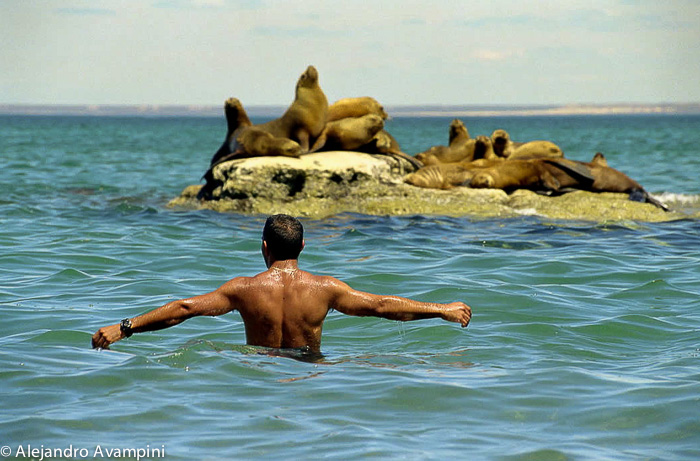 Through the growing concept of conservation and eco-tourism, these animals are now seen in a different light and considered a natural resource. Diving with Sea Lions has brought tourists from around the world to observe and interact with these marine mammals in their natural realm. An intense encounter at close quarters with wildlife in its natural environment is an unforgettable experience. Experienced guides accompany visitors with these curious and friendly marine mammals, creating jobs and offering a unique experience that heightens one's sensitivity, an investment well worth taking advantage of. On land, Sea Lions are territorial and can remain sitting or lying in the same spot for hours. In water their behavior changes dramatically, their movements become rapid and with complete control of the space, they want to keep. Swimming with these curious and friendly marine mammals is one of the activities that I would most recommend while in the Valdes Peninsula.
Summary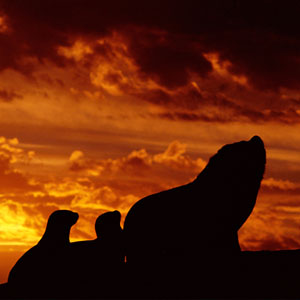 Article Name
Sea lions in Peninsula Valdes - Patagonia Argentina Adventure Tourism
Description
The high density of seals is remarkable, reaching approximately 3,000 individuals. They can be visited by water boat tours, kayak.Over the years fiilm crews
Author