Fauna Calendar
Peninsula Valdes Wildlife
Marine Wildlife
From the ocean, on land and in the air, our fauna share our World with us, leaving behind harmony and new life in an ecosystem as fragile as the young creatures, born in this great maternity ward which is the Peninsula Valdes.

Between May and December, more than 2.000 Southern Right Whales visit our shores to breed and raise their calves. Embark on an unforgettable experience by observing them in their natural habitat. Increase your knowledge by reading something about their behavior, physiognomy, and food.

More than 500.000 Magellanic penguins visit Peninsula Valdes and allow us to observe them very, very closely.  Each year in late August, early September males start arriving, then females. Males renovate nests used in previous years.

 One of the largest inhabitant species of the Peninsula Valdes coast, tender yet fierce, strong yet fragile, sea lions attract the attention of all visitors of Puerto Piramides.
The orcas, also known as a killer whale, are the largest of the dolphin family. They are found in all the oceans of the world, but only in Peninsula Valdes will you see them hunting with the most extraordinary technique in wildlife: the intentional stranding.

By remaining quiet and concealed in the countryside of the Peninsula, you can become more familiar with these large pinnipeds and feel the peace which emanates from them.

Also known as Fitz Roy Dolphin, the dusky dolphin gives splashes of magic and mischief in the calm waters of the gulf. Feel the energy of man's best friend in the sea.
Peninsula Valdes offers a wide variety of coastal environments, ideal for breeding and feeding of various species of birds. You can see flocks of flamingos and many birds guarding the mythical Bird Island.

Imperial Cormorant
Choique
Neotropic Cormorant
Flamingo Austral
Great Egret
Variable Hawk
Elegant Martin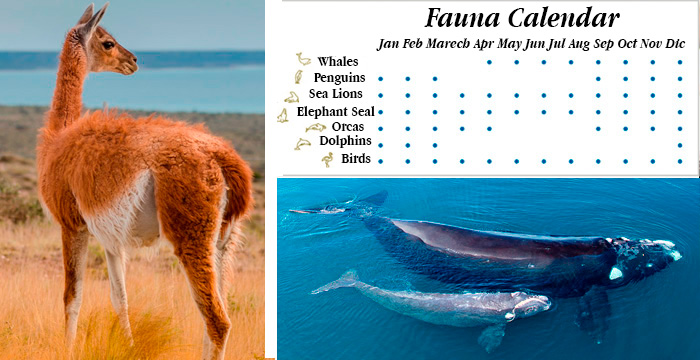 ————————————————————-
Del Nomade Eco Friendly Hotel
We will gladly answer your question 😀


+54 92804635649
Send an email to:
info@ecohosteria.com.ar
We will respond promptly.
Thank You
————————————————————-
Virtual Guides
Del Nomade Eco Hotel introduces you a guide about the most important marine species that inhabit our waters of Nuevo Gulf . Majestic southern right whales, stunning orcas, restless sea lions, giant elephant seals and friendly tireless dolphins. .. all of them live from the shores of the small town of Puerto Piramides and other parts of the peninsula.

Another guide, this time about some birds species inhabitants in Valdes Peninsula, Argentine Patagonia. This is just a sample of the dozens of species you'll find in our region.

Summary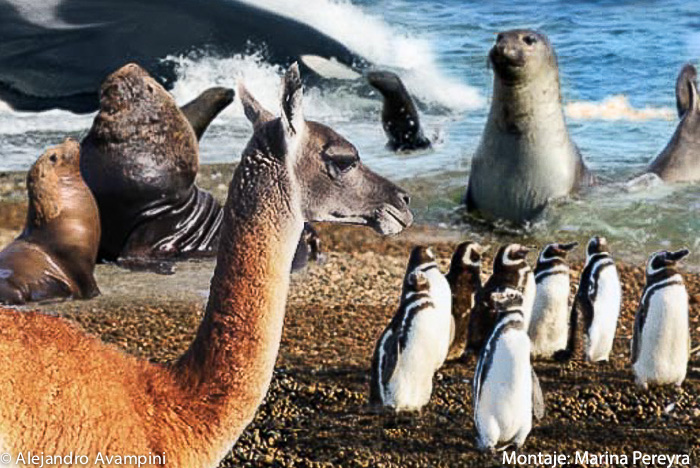 Article Name
Valdes Peninsula Wildlife Calendar Argentine Patagonia
Description
New life in an ecosystem as fragile as the young creatures, born in this great maternity ward which is Peninsula Vañdes. 1100 Right Whales, 500.000 magallanic penguin, orcas, sea elephants, sea lions, 180 species of birds. the mythical Bird Island are part of this Natural Reserve.
Author