Orca season is the most difficult proposal that the Valdes Peninsula can offer to the visitor. As opposed to the whale watching season, where an encounter with the right whale is guaranteed and it is common to observe more than 10 to 15 whales on a single tour, as they float close to the authorized whale watching boats. Whit orcas nothing happens like.The high density of whales that visit the Valdes Peninsula per square kilometer during the months of June through December is increasing at a rate of approximately 7% annually. To get an Idea of their numbers, the aerial census from last season counted more than 2.000 individuals. All joking aside, that is a ton of whales!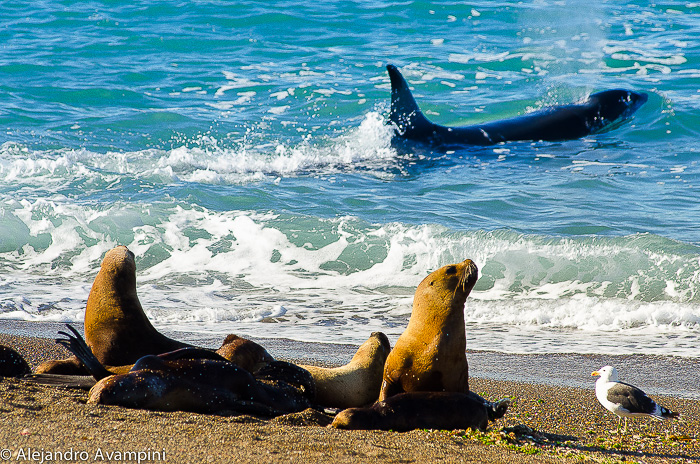 ————————————————————-
Del Nomade Eco Friendly Hotel
We will gladly answer your question 😀


+54 92804635649
Send an email to:
info@ecohosteria.com.ar
We will respond promptly.
Thank You
————————————————————-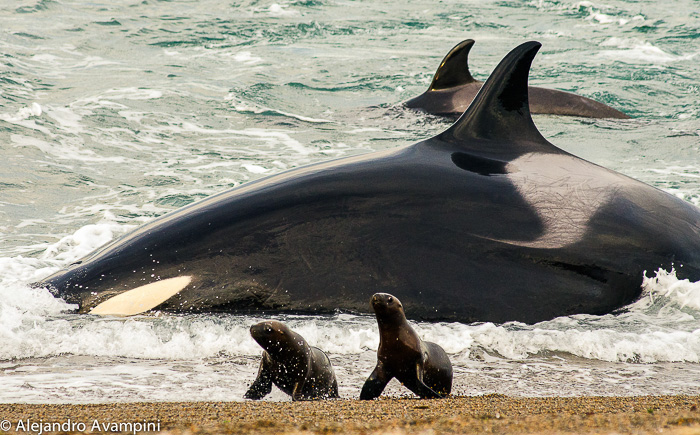 Orcas season in Caleta Valdes, is also unpredictable, between October and December orcas visit the sea elephants colony, looking elephant seal pups distributed on the coast. Spring has flourishing Valdes Peninsula wildlife. High season penguins, whales, birds, elephants and sea lions guarantee the full encounter with wildlife.

In contrast, the Orcas, also known as killer whale, are permanent residents in the Valdes Peninsula and do not migrate thousands of kilometers like the Right Whales. They constitute only about 30 individuals and they usually can be seen in Punta Norte from early March through April. It is a very short season, in terms of tourism, with the peak of this season only lasting some 10 to 15 days. There are orca excursions and trips to Punta Norte.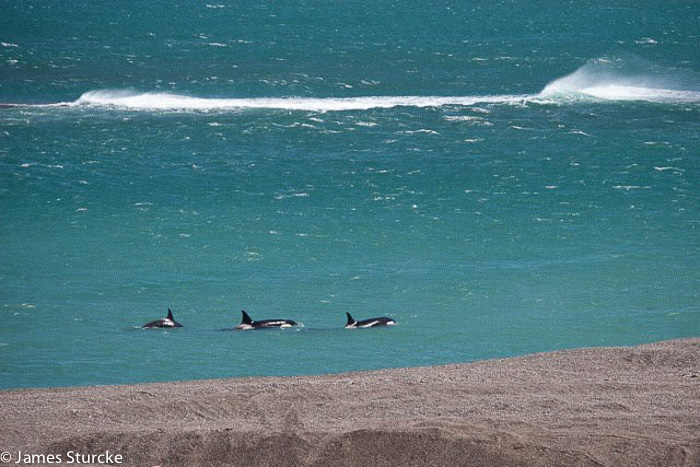 The northern most corner of the Valdes Peninsula offers very interesting characteristics during this time of year. The different family pods of local Orcas add to their normal daily diet of approximately 80 Kg. of Sand Perch, Octopus and other marine creatures, young Sea Lion calves that were born just a couple of months earlier along the coast of Punta Norte. A Sea Lion Calf, to the Orcas, represents about 20 Kg. of delicious, tender meat. It is nothing personal, but a taste for this variety causes some of the Orcas to intentionally beach themselves, risking their lives with the objective of capturing this tender resource, rich in calories and proteins, to feed its pod. This extremely particular event, unique in the world, brings more and more tourists and wildlife fanatics each year.
The World of Orcas in Valdes Peninsula: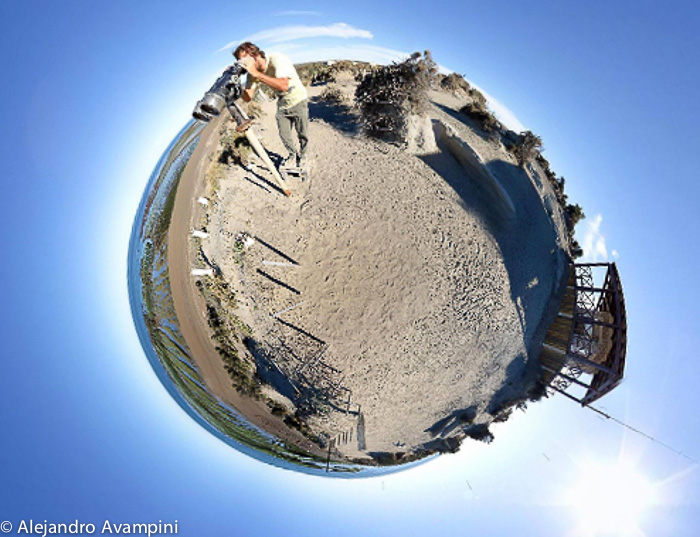 In this self-portrait 360 degrees, I´m looking through binoculars binoculars in Punta Norte the shape of the levees that owns the beach all the way, creating different channels between the open sea and sea lions, where orcas have their point of care. Hours later, when the rising tide begins to reach the young sea lions, the Orcas will find an appropriate "path" in order to make the capture and not remain stuck, beached on dry land in the process.To view a large image of this, press the button above that reads "full screen", after having pressed "play".
How to reach Punta Norte in Orcas Season?
After some 75km of dirt road, together with another 100km of pavement from Puerto Madryn or just 5km from Puerto Piramides, the nature reserve at Punta Norte is reached. As part of the protected area of Valdes Peninsula, entrance is free and visiting hours are from 8am until sunset. There is no public transportation operating along the dirt roads of the peninsula, if you are traveling without access to a car you will have to hire an excursion from either Puerto Madryn or Puerto Piramides.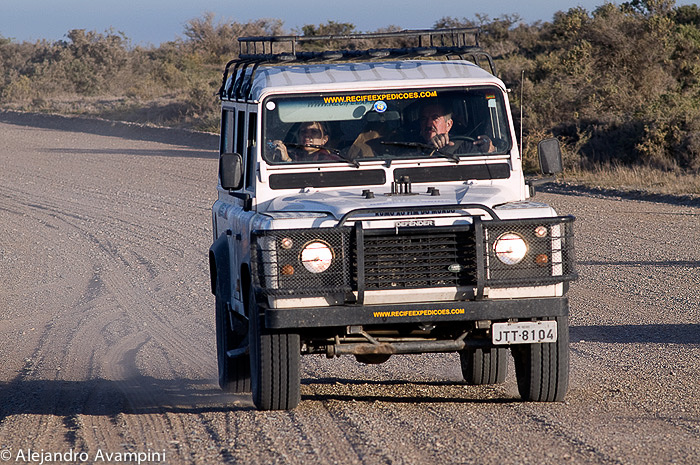 What is the time to go to Punta Norte?
Orcas can only really attempt to capture a Young sea lion when the tide is high. When a calm wave breaks along the edge of the different sea-lion colonies and the young innocent offspring are found distracted, playing in the foam; this is the Orcas moment for action. When the tide recedes, the sea-lion colonies are left high and dry, far from where the water's edge meets the cobble-stone beach and far from the possibility of witnessing an attack.

Here I have provided a link of Actualized Daily information on Valdes Peninsula, produced and maintained by the Valdes Peninsula Park Administration. In this link you will have access to the tide tables, for high and low tides at Punta Norte and Caleta Valdes, as well as current road conditions, weather forecasts and other pertinent information.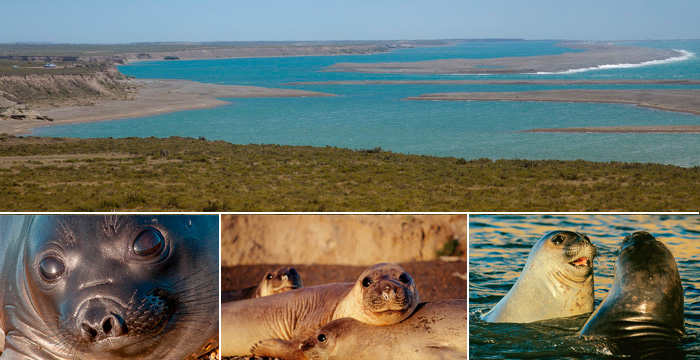 Orca season in Caleta Valdes is unpredictable but like the springtime it accompanies, is full of life together with the rest of  Valdes Peninsula. Whale season together with penguins, birds, elephant seals and sea-lions guarantees an encounter with wildlife in its fullest form. Orca season in Punta Norte is a little more specific, particular and somewhat predictable. The amazing number of penguins at the San Lorenzo Estancia and diving with sea-lions will provide the final encounter with wildlife before the last tourist leave Valdes Peninsula, abandoning this corner of the world that will once again flower with the arrival of spring.
————————————————————-
Del Nomade Eco Friendly Hotel
We will gladly answer your question 😀


+54 92804635649
Send an email to:
info@ecohosteria.com.ar
We will respond promptly.
Thank You
————————————————————-
Punta Norte Observation Platform

The observation platform at Punta Norte is the central gathering point for tourists, visitors and photographers alike. Each year the numbers of those interested in observing Orcas in their natural habitat and the chance to see their interaction with sea lions increases, and the observation platform at Punta Norte is their point of convergence. Nature establishes the time frame for possible observation of these amazing animals, but it is good to keep in mind, be present from two hours before until two hours after high tide.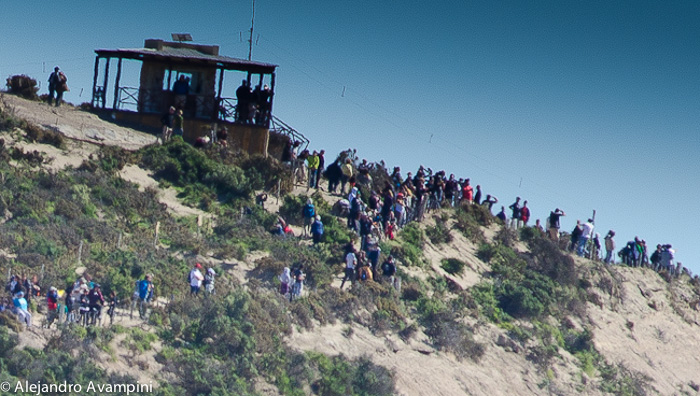 Access to the beach itself is prohibited so as not to alter the animal's natural behavior, but an established trail a bit higher up, works like a natural observation platform, offering a spectacular view of the different sea lion colonies. The reserve at Punta Norte has a small café and kiosk as well as comfortable public restrooms and parking area. Since the disappearance of Mel, a unique male last seen a few years ago, Orca season has not been the same. Mel was the iconic figure of the maximum marine predator, an excellent hunter in Punta Norte, with his size, power, courage, and affectivity he was believed to be approximately 51 years old and has ceased to appear. For decades Mel was the most famous protagonist in the documentaries produced by National Geographic, BBC and the other wildlife channels. His absence is hard to digest for many of us who consider this Orca to be a part of our lives. Every season we have expected his presence in the primary attack channel in Punta Norte, an animal that rose above all others in the technique of intentional beaching.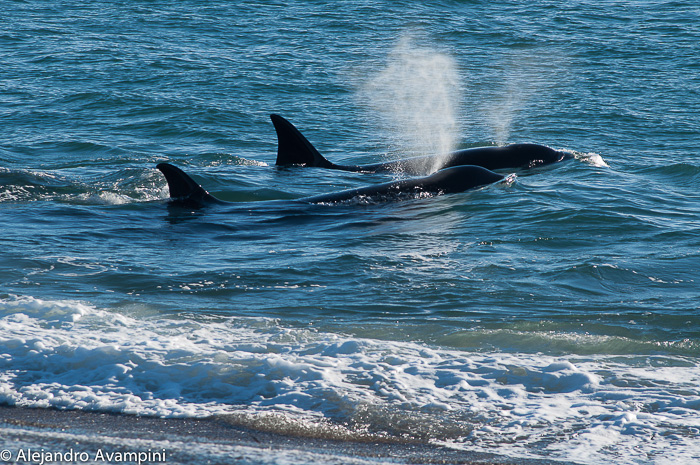 In the exception to one juvenile that reappeared two seasons back and 2 other males, there are only 5 females that understand and apply the technique of intentional beaching. These females are much smaller than the adult males and in the moment of capturing the young sea lions, much more delicate. These five females are, as well, the ones in charge of teaching this unusual technique to each new generation.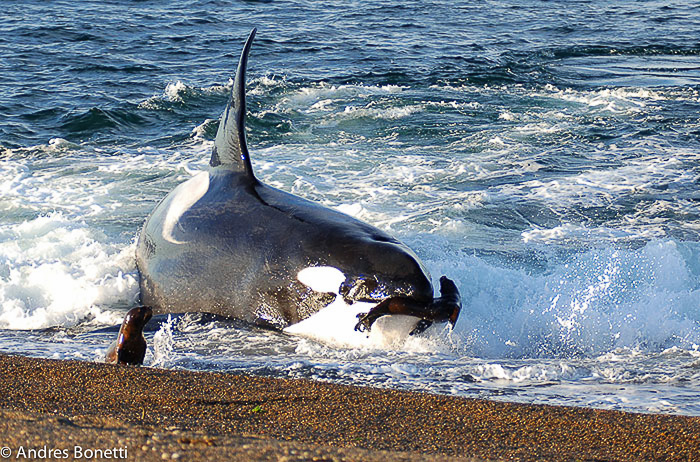 The shear mass of Mel was beyond impressive, his body rising above the height of the crashing waves. With a girth of more than two meters combined with a crooked dorsal fin of more than 1.8mt, in a matter of seconds, he would break the surface, throwing his entire mass of several tons upon the beach, capturing his prey and then twisting his over 9mt body to return to the sea.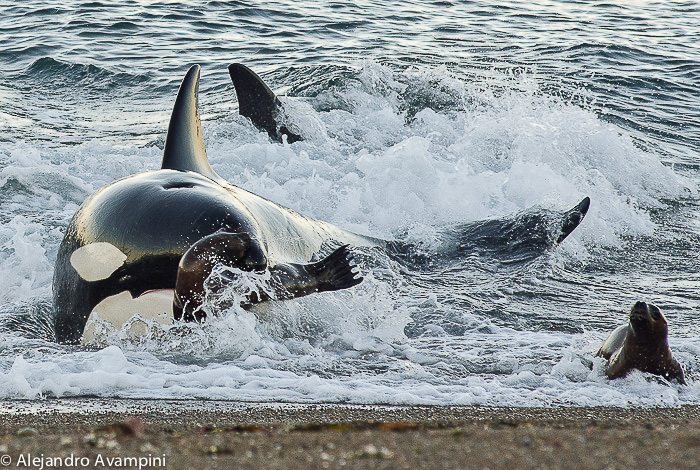 On the 29th of September, 1967, the province of Chubut created a body of Park Rangers responsible for the more than 400,000 hectares making up the eleven Protected Nature Reserves of Chubut. Over the years, several of these men and women have left and continue to leave there mark on the Nature Reserve at Punta Norte. To encounter the starting point of the discovery and study of the Orcas of Valdes I must talk about Juan Carlos Lopez, a true reference point with respect to conservation in the province of Chubut and Argentina. He is responsible for awakening the interest of the world's scientific community with respect to the unique feeding behavior of the Valdes Peninsula Orcas, known as intentional beaching.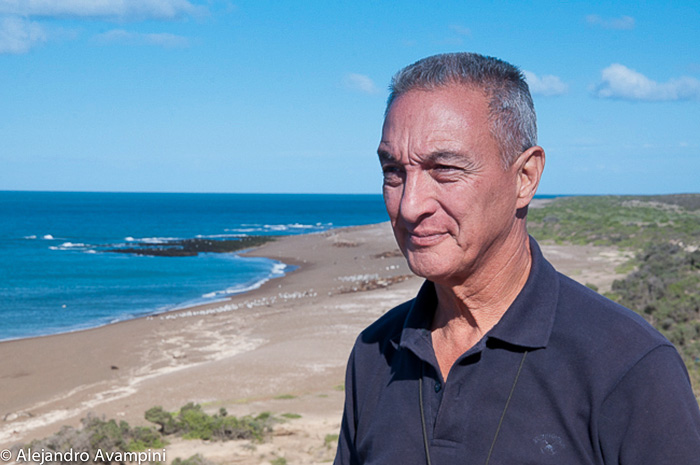 Juan Carlos Lopez began his work as a Park Ranger in Punta Norte in 1975. Having spent so much time in this natural setting he took advantage of the Orca's approaches and began the first known studies on the behavior of these amazing animals in the Valdes Peninsula. Very little was known about them, primarily due to the lack of permanent systematic observation. Characterized for is discipline, Juan Carlos was able to maintain these observations over a 13 year period while carrying out his obligations as Park Ranger in this nature reserve, resulting in an amazing file of information about the Orcas and their complex family interactions. For more understanding into this work he has written an insightful book called; Orcas, Between Myth and Reality. Below is a file from a documentary film made by the Adventure of man and dedicated to the Orcas, where an interview can be seen with Juan Carlos during his time as a Park Ranger in Punta Norte.
In the first of these two videos Juan Carlos explains (in spanish) the feeding behavior of the Orcas of the Valdes Peninsula, and in the second (in Spanish), about many of the deplorable conditions that captured Orcas must endure.
For several decades, Juan Carlos Lopez has offered educational presentations in schools, universities, and auditoriums in Argentina and other countries. In these presentations he has shared his knowledge and experience, generating further respect for nature and awakening the initiative in many students to follow in his footsteps. This was the case for Roberto Bubas, a student of marine biology whose life direction took a turn after hearing Juan Carlos speak at the University in Puerto Madryn, pushing him closer to his own destiny with the Orcas.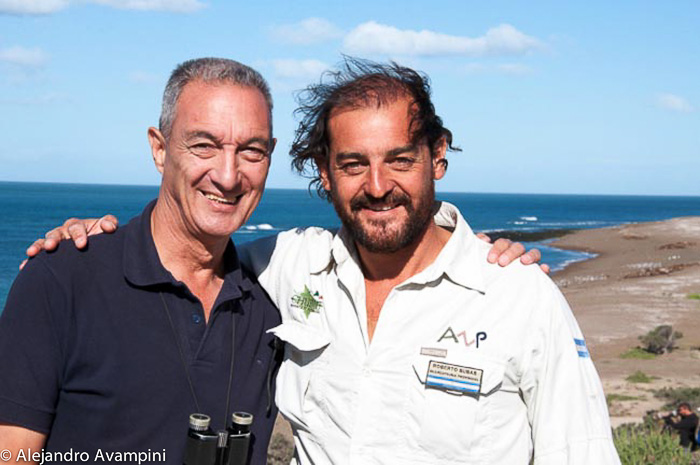 Roberto Bubas, a personal friend and obvious guest at Del Nomade Eco Hotel, is a great nature explorer. Gifted with a unique connection to the world around him, he has written several self-help books. He has also dedicated and continues to dedicate a large part of his time to analyzing his personal experiences with the Orcas and the world of the Orcas in general. An enthusiastic and colorful Character from Chubut, Roberto gives conferences around the world. His daily goal centers on showing how human nature and animal are united in the beautiful natural theater that is our universe.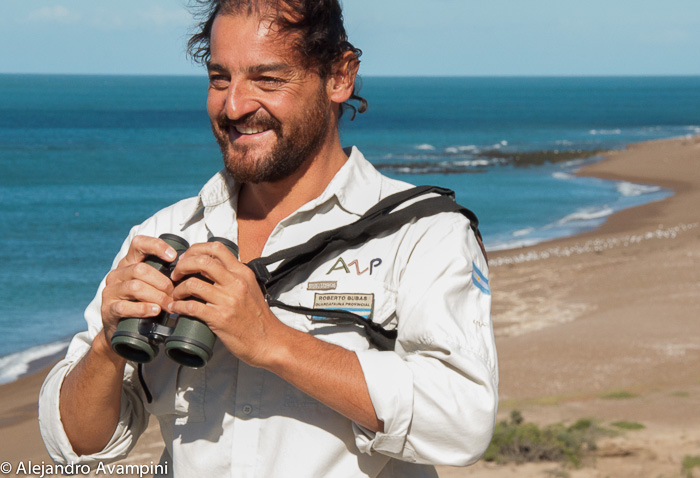 With his harmonica, time and a contemplative spirit, he spent more than a decade as Park Ranger in Caleta Valdes and Punta Norte and established a before unseen affinity with these awe-inspiring marine mammals. His relationship with the Orcas of Valdes Peninsula caused conflicts of opinion in the scientific community and awakened a strong sense of admiration amongst those of us who revere nature.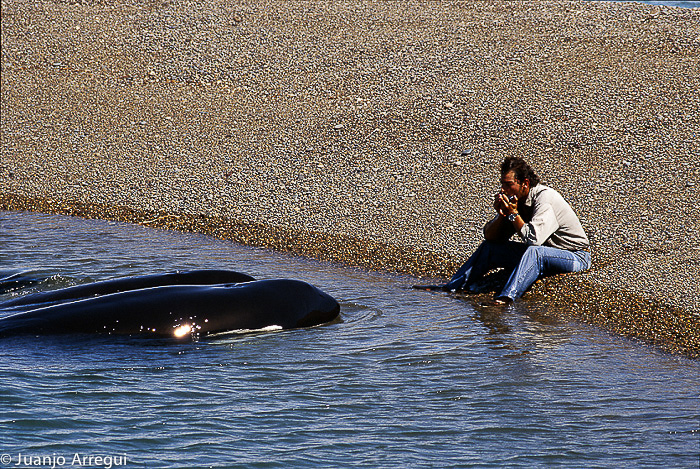 Here is a Discovery Channel interview with Roberto Bubas:
This video is a compilation of the intentional beaching technique made by a local producer in Puerto Madryn, and as well offers the viewer images of the orcas breaching and fluke slapping behavior in open ocean.
Roberto Raffa, the last of the Mohicans, born in Trelew and part of the State Nature Reserves since 1986, began his work as a Park Ranger in 1991. A romantic, devoted to wildlife in its natural environment, Raffa returned to his post in Caleta Valdes in 2012, after an 11-year absence, and here he remains, living his own experience with the Orcas. Attracted by the curiosity and admiration evoked by these amazing cetaceans, he has participated in several memorable encounters and has developed a relationship with them. One of his most powerful memories with the Orcas came while working with a Brazilian Documentary Crew from "Red Globo". Lea, a female orca from the resident population moved in close to shore, in the breaking waves close to where Raffa was standing, and there they locked eyes in an interchange of sensations that consolidated in an instant all his life experience.
Here I have provided a video with "El Raffa"

Murilo Lins, seen here in the photo at my right drinking a beer at the local artesian beer pub, "Guanaco", and a regular guest at Del Nomade Eco Hotel, was the fortunate photographer who captured the first images of a beaching male since Mel's last appearance. This Orca surprised everyone with his solo appearance in the Valdes Peninsula and appears to be postulating as Mel's heir.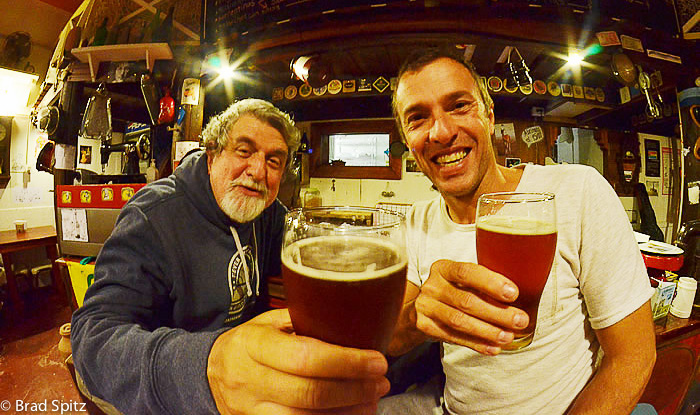 Towards the end of the 2012 Orca Season, after all the documentary film crews had left Valdes Peninsula with little to show for their time and effort and while we were closing the season at Del Nomade Eco Hotel, Murillo arrived with an incredible enthusiasm, characteristic of the Brazilian's "all is well" attitude. Nobody could have imagined that in the days to follow, well past the peak of Orca Season and its best statistics, someone could document what this privileged nature photographer was able to capture. The first registered attack of a new male! A fantastic story of Murillo's good fortune.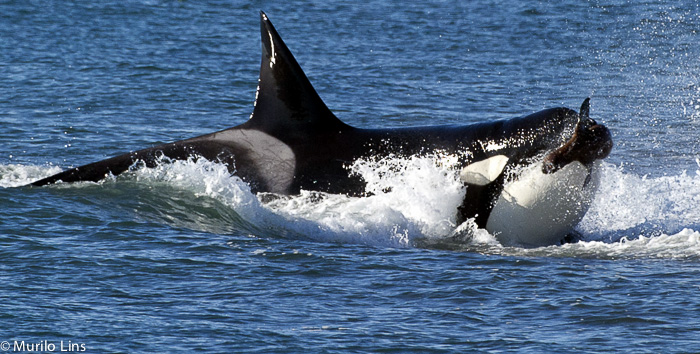 An Orca that we began to can Jaluel, new in his appearance as an adult male but born into the family of Orcas of Peninsula Valdes, is now more than 15 years old and more than respectable in size. His rising dorsal fin differentiates him from females and juveniles, and combined with his youth and strength has generated great expectations in the world of Orcas. Jaluel is earning his role as protagonist in the breaking waves. Murillo Lins has updated his web page for the contemplation of his excellent esthetic and documentary work with the orcas and other South American wildlife. This video shows the first attack of Jaluel, made along the coast of the Estancia "La Ernestina", Punta Norte, Valdes Peninsula, one year after Murillo's photos along the South Bay of Punta Norte.
————————————————————-
Del Nomade Eco Friendly Hotel
We will gladly answer your question 😀


+54 92804635649
Send an email to:
info@ecohosteria.com.ar
We will respond promptly.
Thank You
————————————————————-
Punta Norte, like most of the protected nature reserves, is far removed from any kind of urban center. These protected areas exist many kilometers from society, literally isolated from almost all human activity except for the occasional ranch hand. These nature reserves have been declared protected areas by the provincial government of Chubut and therefore are under the care of the Park Rangers, who live in the protected area during the entire year. In the long and lonely winters, the true temple of the human individual is put to test. Punta Norte is a site that, outside of Orca Season, receives almost no visitors and during several months becomes quite isolated. During their days off, most of the Park Rangers will make a quick visit to town before returning to their life mission, keeping a close eye on their space, in that particular union between the earth and sky, caretakers of the constant natural manifestations that must be preserved from human greed.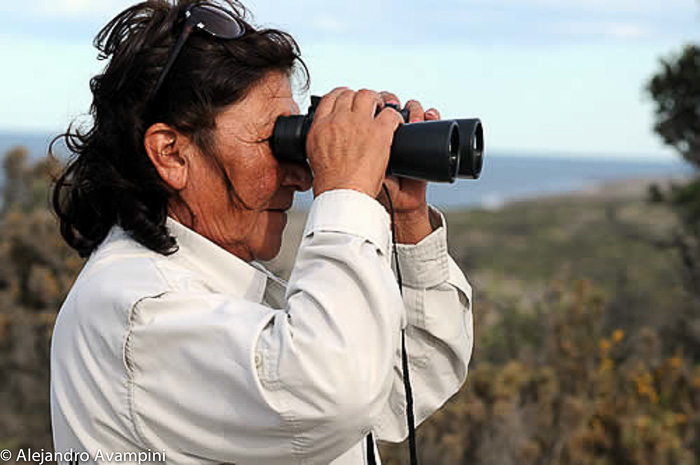 Try to imagine an isolated corner of the world where, even in our modern age, there is no telephone signal and the only possible human communication is made on a VHF radio. It is here, amongst these conditions that an adorable Patagonian character, Isabel Peinecura, carries out her duties as Park Ranger in Punta Norte. Her humble beginnings in no way held her back from the dream of many nature lovers. Isabel was born in a small establishment, visible on only a few regional maps and close to the tiny town of Ramos Mexia in the bordering province of Rio Negro. As we talk she begins to remember her infancy and after sharing stories of her tough upbringing she sums it all up with the statement, "Well…what can you do, I grew up rolling with the punches".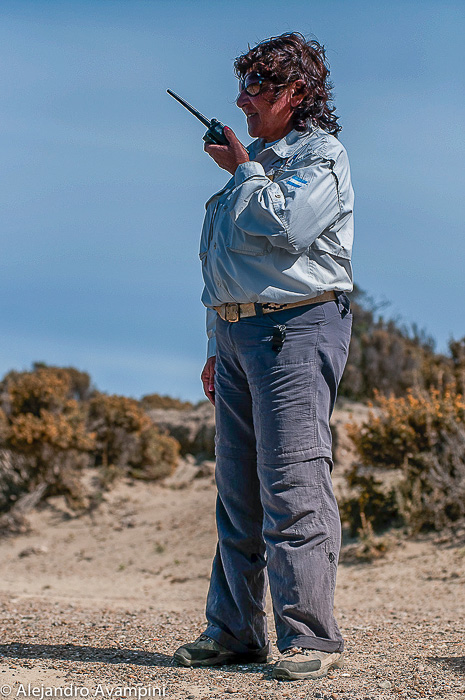 One day back in 1982, Isabel and her husband received a job offer in the Estancia "La Adela", owned by the Ferro family here in the Valdes Peninsula. This was an offer that Isabel and her husband quickly took advantage of as a way out of the isolated and inhospitable area where they were living. They moved to the Valdes Peninsula together with their children, and ten years later were offered educational jobs with the Park Rangers.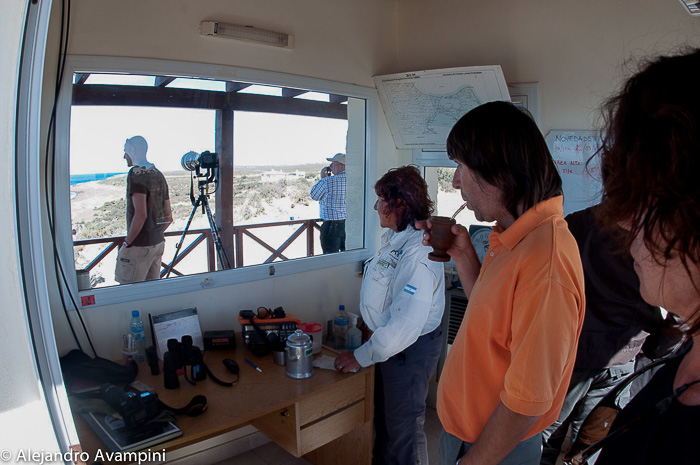 Over the course of many years, they worked in the visitor's center at the Ameghino isthmus until being offered the job of Park Ranger in 2001, a job that Isabel has taken on with great responsibility. Her job is to inform visitors and tourists about the flora and fauna of the area and at the same time, maintain order and protect this fragile piece of Patagonia, Argentina. And when there are no tourists or visitors, Isabel remains present, in direct contact with nature, living in a state of fusion amongst all this immensity, full of infinite sunsets, sea, and stars, until once again February reminds us of the approaching Orca Season.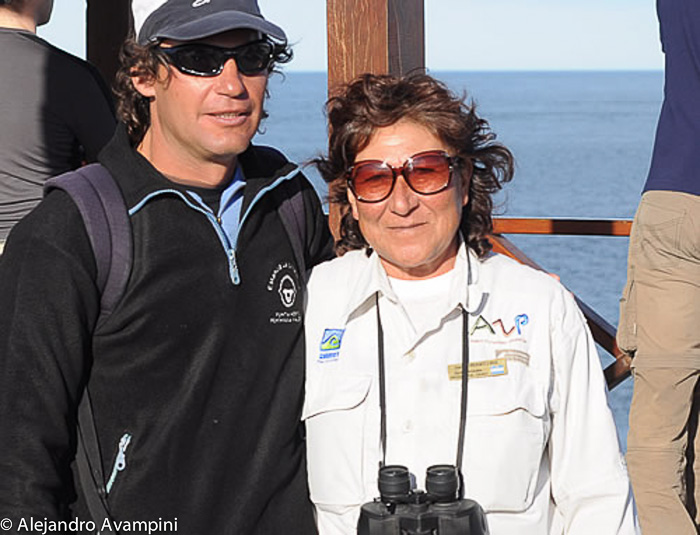 The neighbors of Punta Norte, although their presence is several kilometers away, allow some sense of security and a feeling of not being quite so alone. This is the case with Juan Copelo, owner of the Estancia La Ernestina and its surrounding territory bordering the Punta Norte nature reserve. Juan is very involved with the observation of Orcas along the coast of his land and actively participates with the Punta Norte Orcas Research Foundation.
They do a photo-identification catalogue of orcas.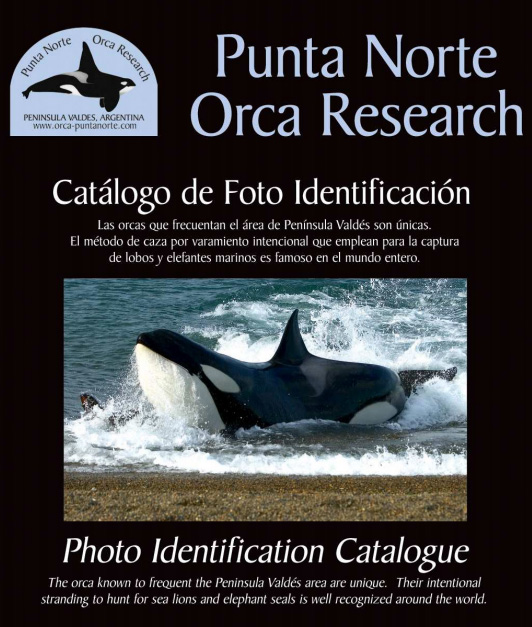 Hector ¨El Turco¨ Casin is, without exception, the most experienced of the Park Rangers of Chubut. For the last 23 years, he has worked accompanying scientists, documentary film crews and nature photographers, all of whom will confirm his excellence.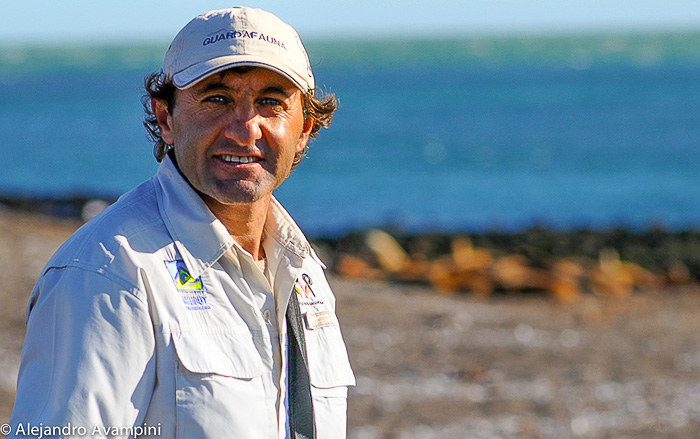 Hector has worked with all of the major Wildlife and Nature production teams that have been attracted to this natural paradise. National Geographic, Discovery Channel, BBC and Animal Planet, to name a few of the most recognized, as well as other production teams from France, Italy, Germany, Japan (TBS and NHK) and many others who have come to Chubut and the Valdes Peninsula to document its unique wildlife. Due to advances in technology and upgrades in equipment and quality, most of these production crews repeat their logistics in the Valdes Peninsula every couple of years, returning not just once, but several times!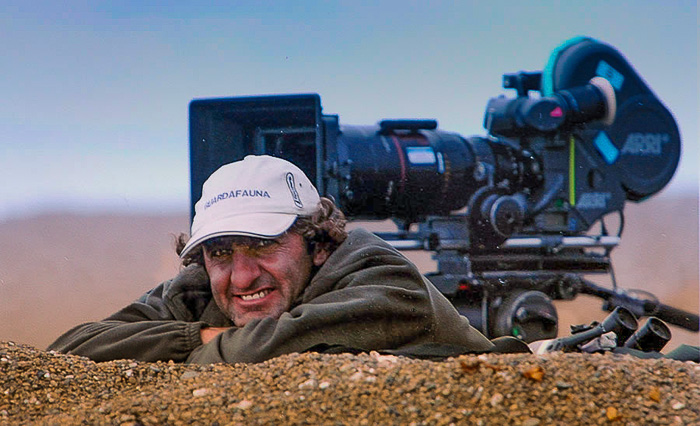 His function involves supervising the approach and distance between humans and wildlife in order to minimize the impact made on wild animal behavior. At the primary attack channel in Punta Norte he keeps the photographers and film crews from moving in too close to the sea lion colonies or from exposing themselves above the hidden filming area in an effort to not alter the sea lions natural behavior. With respect to filming the whales both above and below the surface, Hector is the one who will choose with which animal the observations and interaction will occur, avoiding mothers and calves and looking for animals with sociable behavior.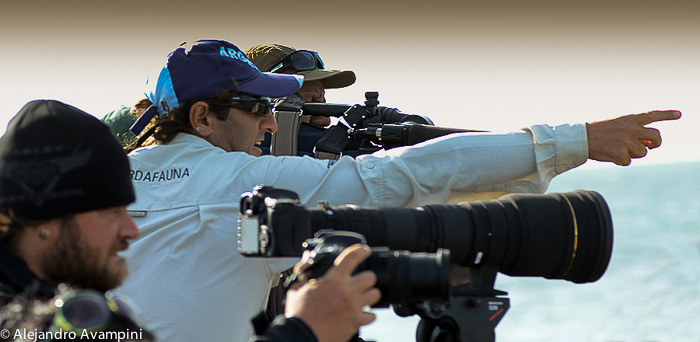 Over the last Orca Season Hector supervised a group with Andres and Dario Bonetti along with me, in the primary attack channel at Punta Norte. With his sixth sense, acquired through years of experience, he would anticipate the place and moment of the Orcas attacks, allowing the photographers and cameramen to be prepared and focused at the precise time and place.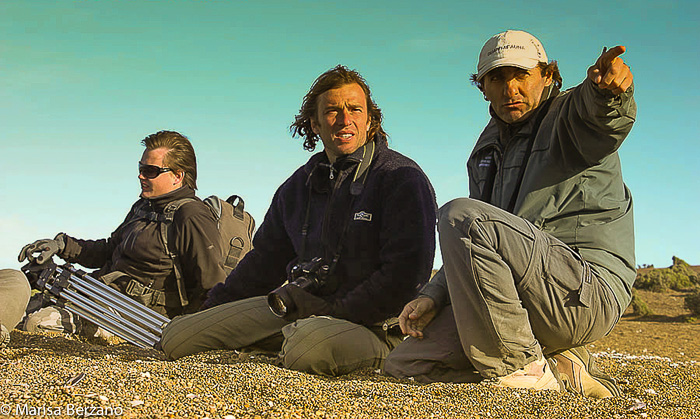 ————————————————————-
Del Nomade Eco Friendly Hotel
We will gladly answer your question 😀


+54 92804635649
Send an email to:
info@ecohosteria.com.ar
We will respond promptly.
Thank You
————————————————————-
Orcas Documentaries
Over the years, documentary film crews and nature photographers have captured incredible scenes, witnesses to a savage natural behavior that lasts only a matter of seconds. One of the last documentaries about the Orca Mel, before he disappeared from the area, was made by a National Geographic team who stayed here at Del Nomade Eco Hotel during the Orca Season of 2009 (not available yet on internet).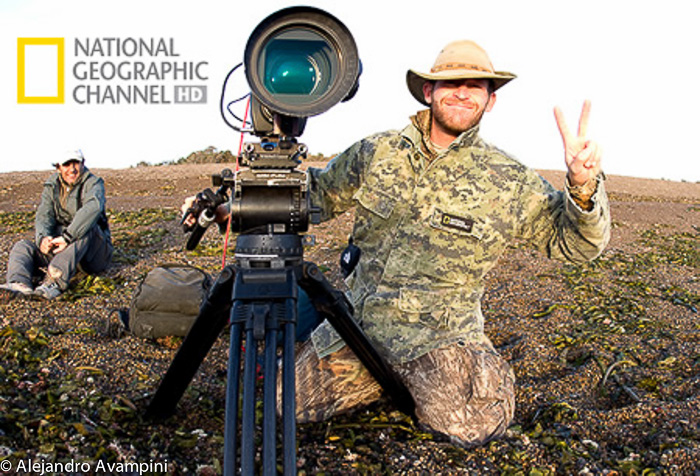 Andy Casagrande, the cameraman who appears here in the photos, was working with this team and using a Phantom camera, which allowed him to capture up to 1000 frames per second and producing a slow-motion sequence with details that had never before been seen. The Orca attack that he captured lasted 6.2 seconds and became immortalized in slow motion as an amazing and uncommon natural phenomenon. Film crews arrive each new season, in a race to produce new documentaries with the latest upgrades in technology, and always with the challenge of capturing new images of this isolated corner of Argentine Patagonia.
It's a rare and truly amazing sight to witness. Off the coast of Argentina, a pod of orcas can ride a wave to shore, seize their prey off the beach and then slide back into the water with their kill. Mastering this skill takes years of practice, and is so dangerous that fewer than half of these orcas attempt it. Nat Geo follows two of the masters, Mel and Maga, as they feed on up to 16 sea lions a day and through rigorous training, pass this extraordinary hunting talent on to their offspring. Here is a clip from a National Geographic production, now a bit of a relic dating some 20 years back. The images show Mel and his brother Bernardo, who disappeared shortly after having been filmed in this documentary, exhibiting incredible intentional beaching attacks. Although the documentary is only in English, the images speak for themselves, allowing the viewer to understand how this ingenious feeding technique is performed.
The Attack Channel
The photographs and film images made in the primary attack cannel at Punta Norte are meant to be published. Elite documentary film crews and nature photographers must pay special fee stipulated by the state in order to access this small and specific part of the beach. In the end, the images they capture will be reproduced around the world. Over the last 40 years all of the well-known wildlife production crews, and many others not so well known have come several times to occupy this 50 meter stretch of beach and cobble.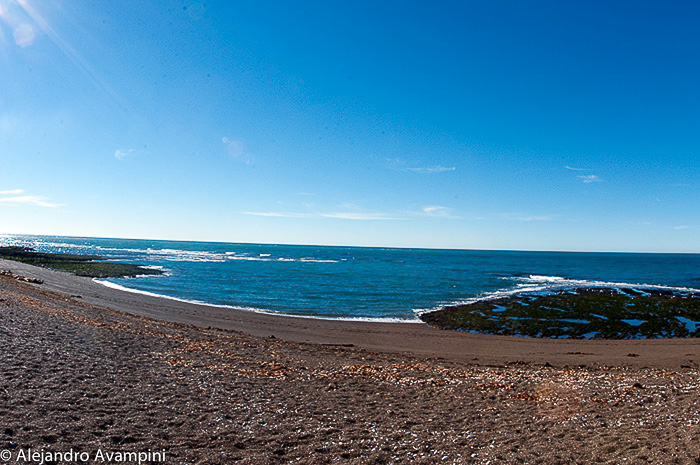 An 800-meter hike along a small trail through Patagonia shrub and under the constant vigil of Sea Lions, leaves you at the attack channel. This channel is protected on either side by two long rock reefs and a steep cobblestone beach creating perfect access. The attack channel at Punta Norte owes its name to the morphology of this particular beach. In this quiet sector of the Valdes Peninsula, low tide exposes in detail the formations of the channel, one of the most captivating wildlife landscapes in the entire world.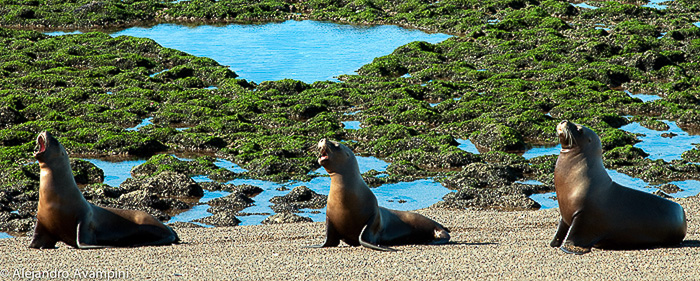 As the tide rises, the rock reefs are covered and the steep incline of the beach subsides below the surface. 2 hour before hide tide the sea lion colony is exposed to the possibility of Orca attacks. For the next five hours the channel is full of possibilities, with the sea lions crossing the channel from one reef to the other, the babies moving and playing in the breaking waves along the shore and many adults ¨surfing¨ the swells just meters from the Orcas. For the most part the adult sea lions do not fear the orcas, knowing that their primary objective is the capture of pups, clumsy, distracted and easy to hunt. After arriving at high tide the depth remains constant for a short time before once again beginning to drop. 2 hours later the water has retreated several meters from the sea lion colony and taking with it the danger of the oceans top predator

Every day the tide will rise and fall twice with a stationary period between each shift, corresponding to approximately 12 hours for the completion of a full tidal cycle. The timing of the tides becomes later with the passing of each day, due to the variations in the stationary period of each high and low tide, oscillating between 20 minutes to just over an hour. This is the reason why, during Orca Season, the potential for attacks on sea lions gets progressively day by day. For example: When high tide in Punta Norte occurs early in the morning, there will also be another high tide late in the afternoon. These conditions appear only a couple of days each month and are referred to as ¨double tide days¨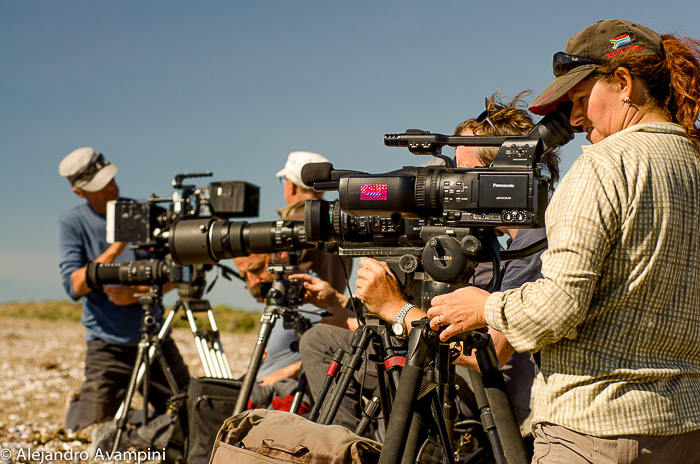 Early morning hours, in general, are more productive for Orcas due to the playful and unconcerned behavior of the sea lions. Sea lion pups wake with the rising sun and spend their time moving from one place on the beach to the next, playing in breaking waves along the tidal line, a dangerous area to be distracted. The beach is divided into sectors by rock reefs, creating channels in high tide through which Orcas can make a surprise appearance and reach the sea lion colony almost instantly.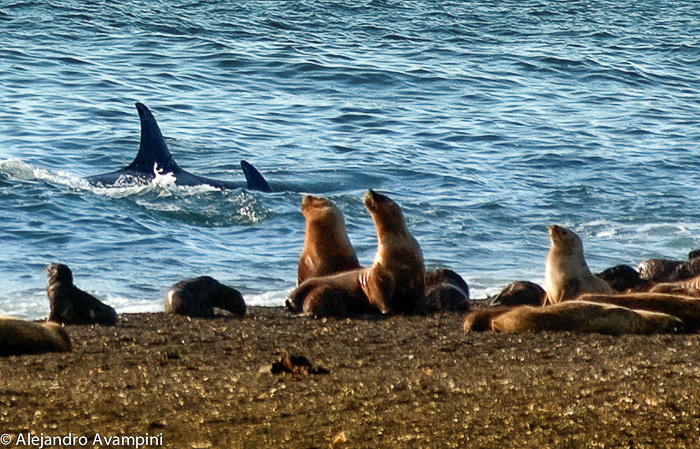 Allow me to reiterate, the presence of Orcas is an inexact science in the field of wildlife and its ocean of possibilities. Orcas do not always appear in the attack zone, and when they do, they do not always attack. Often they will just patrol the beaches, choosing to attack at a different sea lion colony with no public access.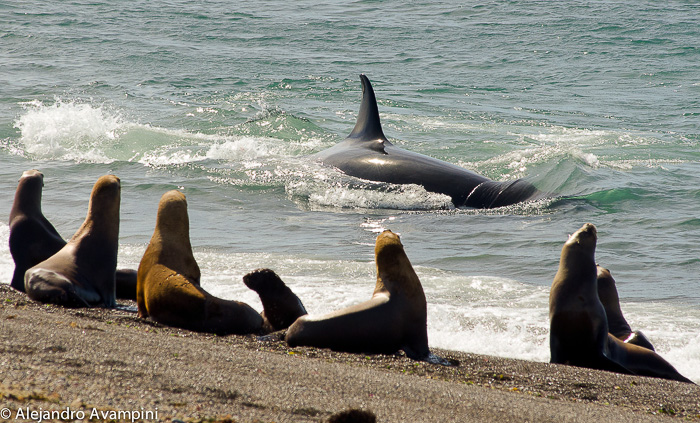 Very often the wait takes several days and even in the peak of Orca Season, their appearance is in no way guaranteed. When there is no action, time seems to slow down for the documentary crews during the long 5 or 6 hour wait under the sun and exposed to the conditions. Time is filled sharing ¨Mate¨ or collecting rocks while the supervising Park Rangers keep a vigil eye on the sea, prepared to alert the crew at first sight of the Orcas.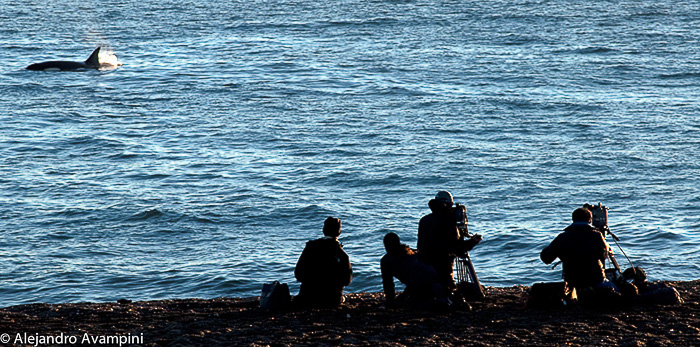 Wildlife Photographers
This natural destination with its unique wildlife would remain relatively unknown if not for those of us who have arrived and waited patiently for those few and far between moments of maximum action, later transmitted to the world through our work as photographers and cameramen.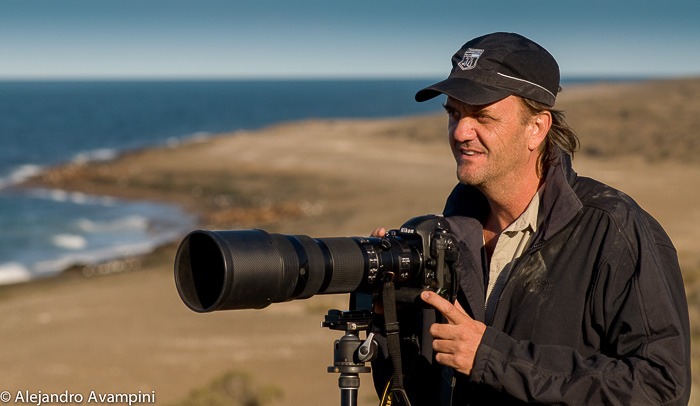 Andres Bonetti has been photographing Orcas in Punta Norte for 20 years, arriving each season with the same tenacity. His images are constantly circulating around the world in the shape of postcards, posters, and books on Orcas, Whales and all the other attractions of Argentine Patagonia. His son, Dario Bonetti, has inherited the same passion for the out of doors and adventure with nature. With his filming equipment, he has become known as a local expert and has one of the best collections of images with respect to marine fauna. Producers from around the world have requested his images to be seen later by millions of people in their documentaries.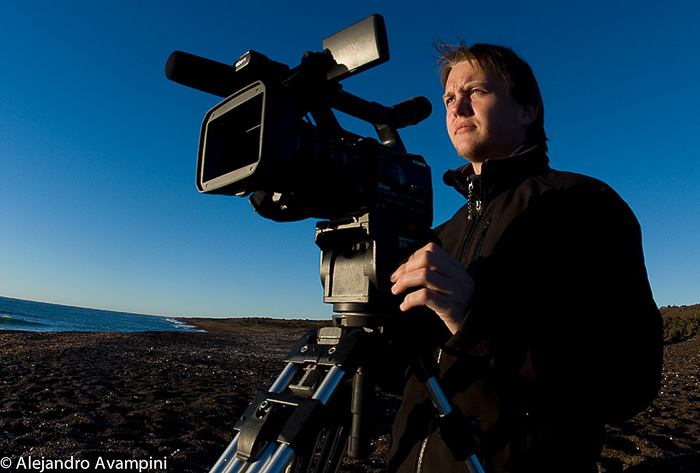 Amongst the Argentine Nature Photographers that reserve their place in the attack cannel each season,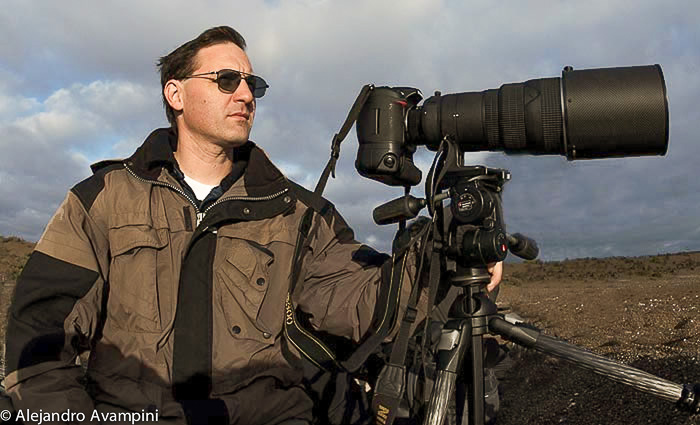 Gabriel Rojo is one that remains loyal, returning each year with the same patience and constancy, searching for the next new image of the Orcas intentional beaching. Gabriel holds an impressive file of images spanning over more than 15 years. I include myself here, in this select group of Orca photographers and give my thanks to Andres and Dario Bonetti who brought me into the world of Punta Norte ever since the inauguration of Del Nomade Eco Hotel Over the last several seasons these friends and colleges would leave the city of Puerto Madryn, some 5 or 6 hours before the high tide, deviate from their course several kilometers in order to pick me up in Puerto Piramides and travel together, between ¨mates¨ and sandwiches, to Punta Norte. What more could I ask for, an unforgettable Patagonian luxury that deserves nothing less than this mention. The three of us are together in the photo below, next to the Park Ranger ¨Flaco¨ Montero, who has worked several seasons at Punta Norte.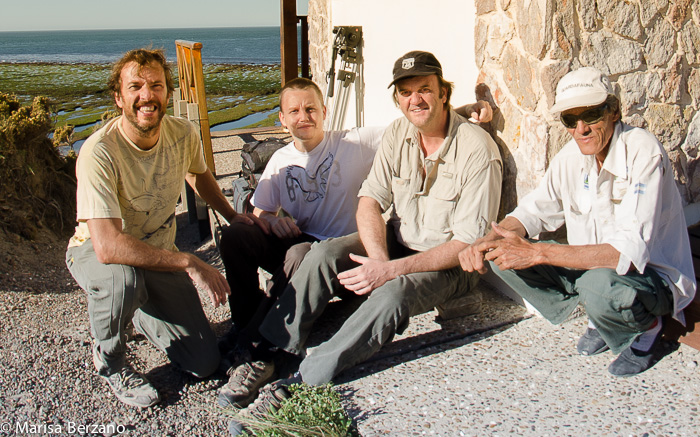 Summary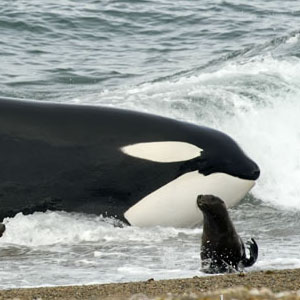 Article Name
orcas season in valdes peninsula argentine patagonia
Description
Orca season is the most difficult proposal that the Valdes Peninsula can offer to the visitor. As opposed to the whale watching season,
Author