This is mentioned in another article, Puerto Piramides can be completely explored on foot. To reach the rest of the sites of interest, it is essential to have your own vehicle, rent or hire an excursion. There is no public transport, by the gravel routes, of the Peninsula Valdes Reserve. Without having your own vehicle, the option is to hire a car with a driver to make the excursions or to join a tour of travel agencies. If you come exclusively to do whale watching, you do not need a vehicle.
WARNING: Make sure you have enough fuel to get to the village as there are no gas stations on the way from Puerto Madryn to Puerto Piramides. The Puerto Piramides service station does NOT have CNG.
Make sure you have enough cash!! The entrance to the reservation is only in cash and Puerto Piramides has only one ATM and usually runs out of money.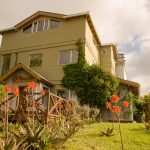 If you book a room in Del Nómade, we can organize your arrival in Puerto Piramides, manage the transport that is according to your budget. Avoiding wasted time in the maneuver and guaranteeing the quality of the service to be hired.