Puerto Piramides is the only town within the Peninsula Valdes Reserve and is the only whale watching port. It has hotels, houses for rent, apartments, hostels, and guest houses, to stay and restaurants and bars to eat and drink. Adventure sports are daily in the village. Trekking, kayaking, mountain bike, diving, diving with sea lions and nautical tours or 4×4 tours through the reserve, visiting the colonies of sea lions, elephant seals, and penguins.
It is located 180 km from the city of Trelew, and 100 km from Puerto Madryn, the only two cities with an airport in the area.
It is possible to rent a vehicle at the airport or hire a transfer service to the different surrounding cities.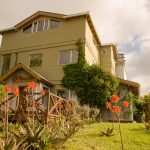 If you book a room in Del Nómade, we can arrange your arrival in Puerto Pirámides, manage transportation that is in accordance with your budget. Avoiding that you lose time in the maneuver and guaranteeing the quality of the service to hire. No additional cost