The Guanaco, in Peninsula Valdes and Patagonia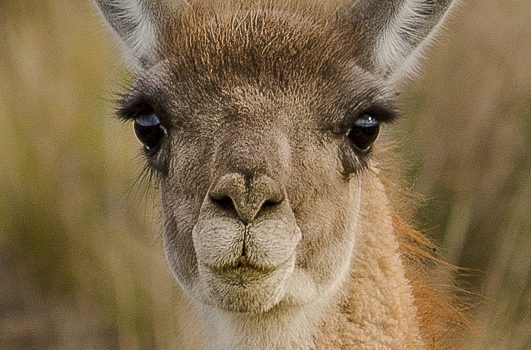 The Guanacos (Lama guanicoe), are mammals, relatives of llamas belonging to the order of the camelids, they carry with humility the title of being the largest terrestrial vertebrates of Patagonia.
This beautiful animal species was before the arrival of the white man, a fundamental ally for the survival of the indigenous people who inhabited Patagonia, providing meat as food and skin as a shelter.
The Peninsula Valdes is a Provincial Reserve, but it is not an intangible park, that is why there are commercial activities, developed by 56 ranches that are mainly dedicated to the breeding of sheep and livestock with a history of the early 1900s.
Reserve San Pablo de Valdes is an example of the recovery of soil and fauna since they removed all the sheep from the field.
The guanaco has an incredible ability to jump the fences and is common to find them in the walks and circuits of this Natural Reserve, on the side of the route, where the herbaceous vegetation is much greater, than within the fields, where the shrub vegetation dominates the stage and it is your main food.
The creation of routes and roads always involves "cleaning" the area adjacent to it, to create a clear area or shoulder, to achieve this it is necessary to eliminate the shrub vegetation that takes years to grow and grow shrubs that grow in a few months. Appetizing and easy to eat. The bushes are tender and very attractive for the herbivores, that is why for an animal with the ability to jump the fences it is not an obstacle to be on either side of the fence that is just over one meter high.