The seal elephant is a beast of improbable proportions. In one of the largest colonies of elephant seals of Peninsula Valdes, Punta Delgada, you can read in the infographic placed by the Administration of Protected Areas of Chubut spectacular data on this species. In this article I pass the written information, so you can know, admire and respect the wonderful fauna of this corner of Patagonia.
Sea elephants can do continuous, prolonged and deep dives, both day and night and the fitness for diving improves with age, reaching more than 4.900 ft ( 1,500 m ) deep and can swim distances of more than 11,500 km traveled in a year. While swimming they are usually 2 minutes on the surface between the dives. They can be 90 minutes holding their breath, this feature allows them to be 80% of their time underwater.
In the graph you can see the depths to which some of the best known marine mammals arrive, being the champion of the abyss the marine elephant. There are records that these animals can reach 4.900 ft ( 1,500 m ) depth, the sea lion submerged to 4.000 ft ( 1,200 m ), the right whale to 1600 ft ( 500 m ) and orcas to 330 ft ( 100 m ).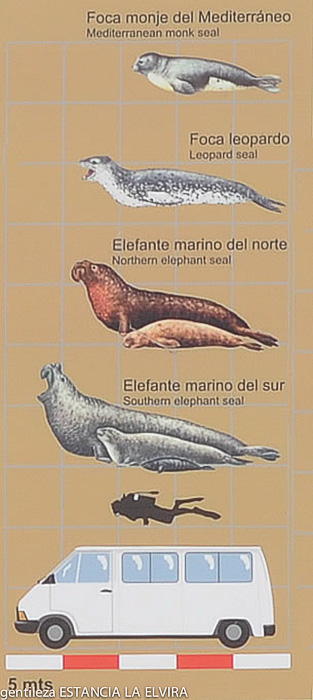 The huge dimensions of the sea elephant far exceed the comparison with any other marine mammal that has its reproductive cycle out of water. On the coast of La Elvira Ranch, all this activity is developed and offered based on a restaurant with panoramic views, to see the immensity of  Caleta Valdes, food and lunches to satisfy hunger after so much gravel and adventure. A center for tourists to assimilate and enjoy in this distant tourist attraction.
It has a large Restaurant and a view of the incredible Caleta Valdes; a store of regional items, which can be enjoyed before or after the walk. There is also a ranger who lives there and assists tourists with the information at any time they request it. This initiative of La Elvira Ranch, owner of these lands, has an interpretative path that allows us to access information, while we see the beach full of elephant seals.
Another poster on the trail has the graph that compares a male sea elephant with a male sea lion. These huge champions of apnea, get to measure 3 times more than a sea lion. It has 8 times its weight! The adult male sea lion weighs 1.100 lb ( 500 kg ) the adult male sea elephant weighs  8.800 lb ( 4,000 kg ).
They have other differences, the sea lions, they move on their 4 fins, they have an auricle, small pointed ears between the hairs behind the eyes and the males have an abundant mane. On the other hand, the sea elephant, crawls to move, moves with undulating movements of the belly, without using its fins, they lack auricle and the males do not have a mane.