The sea lions mothers, defend pups from the orcas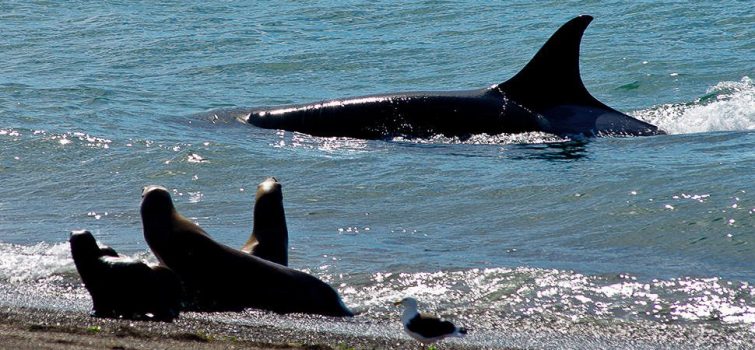 The attack of orcas to sea lion pups is sometimes hampered by the presence of the mother sea lions that stand in the way of the orca that sneaks underwater. With the intention of not being seen, the orca stealth that is often perceived by the fin that appears in the water, other times if the depth of the water allows it, they swim sideways so that the dorsal fin does not come out of the water. Many times the behavior of the female sea lions successfully manages to avoid the success of the intentional stranding that the orca makes on the beach with the intention of capturing a pup, taking it to the high seas and tasting it with its family.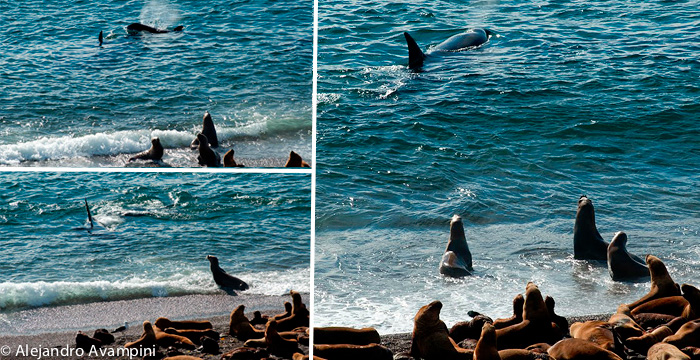 A while ago, I was able to photograph this situation. Two killer whales, they faced their swim towards the beach, decided to go with a trophy pup, but … they were surprised by a sea lion mother putting their chests to the attack. The orcas stopped an eternal second looking at the female and decided to undertake the retreat, a well-planted mother slowed the onslaught. Of course, this sea lion female risked its life.
Many times these situations come to a close fight between the two species of marine mammals; for this to happen, the orca must have a conviction and an important knowledge in the technique of intentional stranding, the danger of that encounter may generate for the killer whale a stranding without return that would cause an agonizing death on the beach, or a wound important in your body, due to bites caused by a furious mother.