The Birds Island Reserve has a large fixed binocular, allowing visitors to move-in close to the action while not disturbing or altering the bird's reproductive behavior during their spring and summer residence.
The color of their feathers are acquired by the food they eat, that's why their offspring are born whitish and take on the intense pink color from the small crustaceans, which form the major part of their diet. Flamingos are not resident in Peninsula Valdes area, however, they nest in lakes in the Province of La Pampa.

Stopping at one of the signs and reading the information while observing the island it becomes evident how its shape could have easily inspired Saint Exupery in the creation of his book "The Little Prince". The drawing made in the first few pages of his book of the boa that swallowed an elephant is almost identical to the shape that is seen when observing the island from this perspective.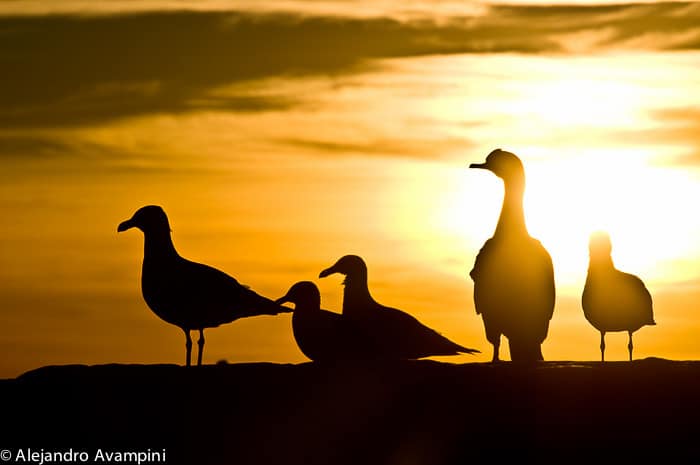 The different species of birds that nest and reproduce on Bird Island include the Great Egret (Egretta alba), Black Crowned Night Heron (Nycticorax nycticorax), Kelp gull (Larus dominicanus), Rock Cormorant (Phalacrocorax magellanicus), Neotropic Cormorant (Phalacrocorax olivaceus), Chubut Steamer Duck (Tachyeres leucocephalus), several species of Terns (Sternas) and some Megallanic Penguins (Spheniscus magellanicus). Other birds that can occasionally be observed in the area or on the island include Brown-hooded gull (Larus maculipennis), Southern Giant Petrel (Macronectes giganteus) and Chilean Flamingos (Phoenicopterus chilensis), amongst others.