Puerto Piramides is the ideal place to use as a starting point towards the natural places that Peninsula Valdes offers, from here everything is closer. The first destinations when you enter Peninsula Valdes, are the visitor center Istmo Ameguino, and the Birds Island. A modern museum that provides the necessary information to have fun learning and the most important bird reserve in the region. There are impressive sites starting from the same Puerto Piramides, passing by the Punta Piramide sea lions colony (6 km from the town) Pardelas beach (12 km), Valdes Creek (75 km) and much more.
In the same roundabout, there is the access that leads us to the Birds Island, so named because of the presence of birds that nest there every year and others that come to eat.
The beach of Puerto Pirámides is in the New Gulf, on which we can walk to the beach of the caves, and even if you are also encouraged to walk to the Punta Piramide sea lions colony (6 km from the town) where after a hike through climbs and descends will access unforgettable panoramic points.
At more than 20 km kilometers you can reach the San Jose Gulf where the beaches of Larralde and Villarino are located. Both places are settlements of local fishermen, it is interesting to see how they live and there are even some that offer lunches to visitors and it is also possible to buy products such as pickles.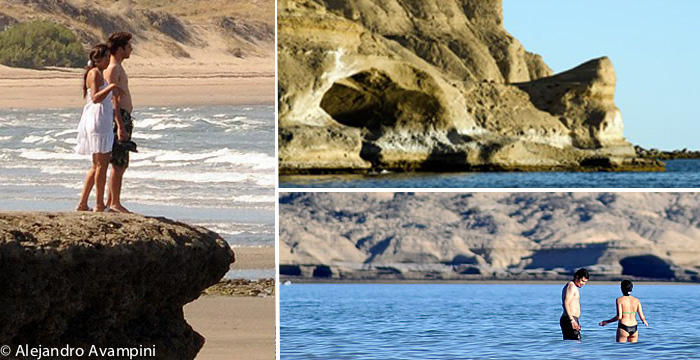 Inside the Peninsula, there is Pardelas beach, a pebble beach, and crystalline waters. In whale season you can see them from the shore, and if you come in summer … do not forget the snorkeling equipment!
There are 4 important points of interest about the Valdes Peninsula, from north to south, Punta Norte, Caleta Valdes, Punta Cantor, and Punta Delgada, where in addition to showing infinite landscapes you can see different fauna depending on the time of year.