Sea lions and their two colonies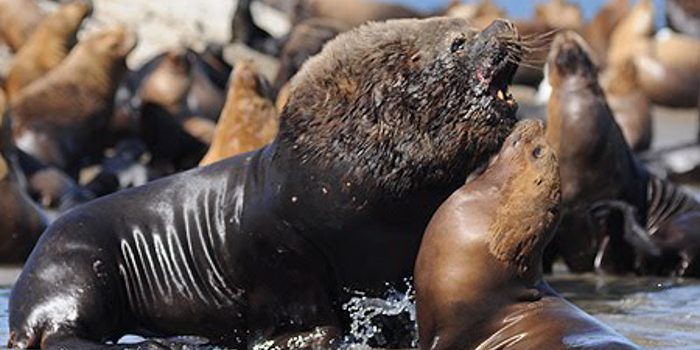 In the animal world, leaving offspring is a necessity for the survival of each species. In mammals, as in the case of the sea lion, the harems that the males have are a consequence of the physiological and unconscious need to have a large offspring. The male can mate many times a day throughout the reproductive season, with the different females of his harem. A sacrifice, in the name of the continuation of the species.
The size of the male is larger than the female, an adult male weighs 1.100 lb ( 500 kg ) and has a mane that starts at the neck and covers the entire head. The females have a lighter color and the puppies of both sexes are born very dark, the skin becomes clear as it grows.
A curious fact is that the specimens suitable for mating, both males and females, change their area during the copulation and calving stage. They congregate in breeding colonies, which are few, such as Punta Piramide or Punta Norte. They leave their usual colonies for the rest of the year by the end of November and at the beginning of December, they are already installed. Grouped in harems of alpha or dominant males. The female calves a baby between January and February, breastfeed until November.