Daily Kayak trips vary according to the time of year. It is the whale season kayak excursions between autumn and spring, to which we dedicate another article and the summer excursions that consist of accommodating in the kayaks on the beach of Puerto Pirámides and paddling towards the Punta Piramide reserve, a reproductive colony of sea lions. This area is almost depopulated of sea lions, throughout the year, but during the summer season, Punta Piramide becomes great maternity. for being chosen by these marine mammals as one of the largest breeding colonies in Peninsula Valdes.
The great density of sea lions between December and March is remarkable. In these kayak trips, during the summer, you will see this colony in its splendor. The newborn offspring and a group of hundreds of individuals, males, and females, make their roars echo in the natural walls. On the way, you can see cormorants, terns, coastal oystercatchers.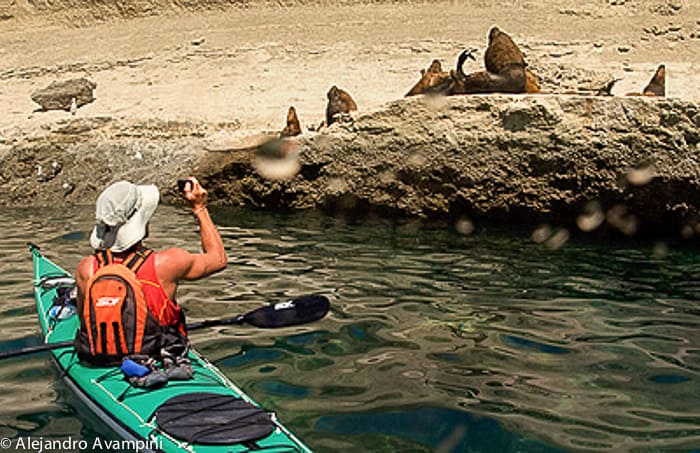 All this fauna framed by amazing cliffs will make you live an unforgettable experience. Arriving at the point of return, an immense part of the cliff appears as a pyramid and is what gave the town its name. Upon returning, the tour continues along the beach of the Cave of the Fossils, to interpret the coastal environment. This tour has a distance of 3.1 mi ( 5 km ) and lasts approximately 3 hours.
Importantly, no prior experience in Sea Kayak is required to participate in these daily departures programs. The kayaks are stable and the snow does not have great technical difficulty. Only paddling when the weather conditions are favorable. If you are interested in contacting them, do not stay with the desire. Visit the Patagonia Explorers website there you will find the different excursions with prices and the email to make queries.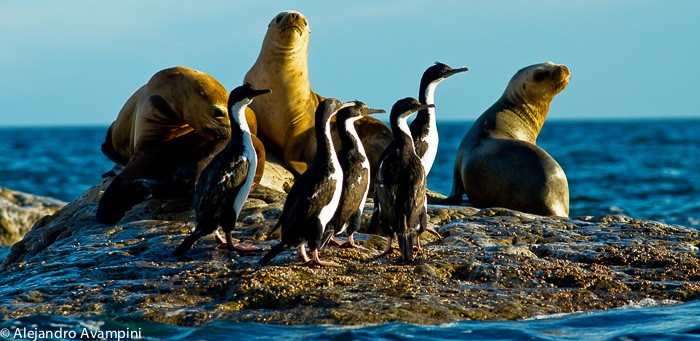 To the colony of sea lions, you can also access by land; walking, on a mountain bike, in a car or on boat excursions made by companies that are in any of the 2 accesses to the sea of Puerto Piramides.