Península Valdes was declared a World Heritage Site by UNESCO, in 1999. Its great beauty and majesty, its prehistoric soil full of marine fossils, its infinite landscapes, the pure and abundant air that is breathed here, contain in a splendid frame the arrival of whales, penguins, dolphins, sea lions and elephants seals. Characteristics that make this area of the world a remarkable and unique place.
At the beginning of 2017, the Peninsula Valdes joined the Club of the Most Beautiful Bays in the World, a group that brings together the best tourist destinations in 25 countries around the world. The distinction was granted by a French NGO that integrates tourist destinations considered "paradisiacal", such as Cartagena de Indias, in Colombia; Setúbal, in Portugal, and Puerto Vallarta, in Mexico.
Annually it is visited to photograph and film the majestic marine and terrestrial life that the creator concentrated here. Discovery Channel, National Geographic and other producers of documentaries of wildlife, from all over the world, send their documentary makers because they find an attraction impossible to resist and set up their headquarters during the filming in our town. Puerto Piramides has the privilege of being the only town within the reserve.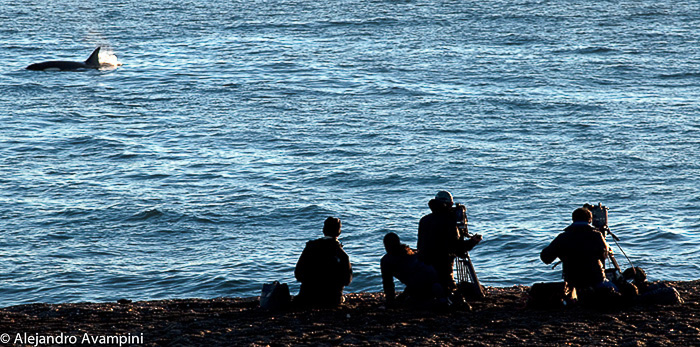 The 500 stable inhabitants that Puerto Piramides has live on tourism, who year after year get to know the only whale watching port in Peninsula Valdes. The beaches are extensive and with a gentle slope towards the sea. The cliffs, which delimit the plateau, protect the small coastal valley where the town of Puerto Piramides is located.
As a traveler, a lover of nature in general and Peninsula Valdes in particular, I recommend for good use of the place, a minimum stay of four days, three nights. The place deserves it and gives you the possibility to be calm and enjoy nature all the time, like few places in the world. At the end of the day, after so much travel, arriving at an incredible destination, which invites you to be part and witness of huge representations of creation, is a possibility not to waste.