Puerto Piramides, a town with history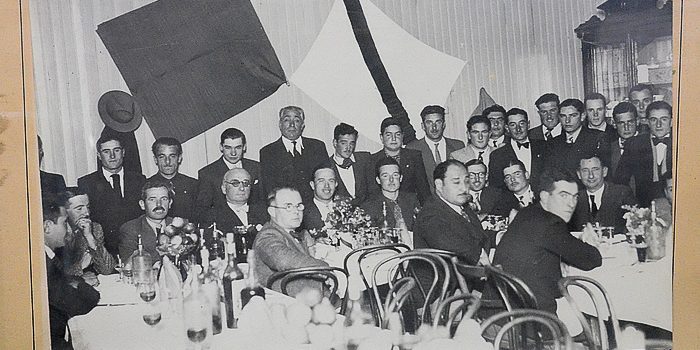 More than 100 years ago the number of people living in Puerto Piramides was much larger than its current population. In a few sentences, I will try to make a simple recapitulation of this century of history. During the early 1.900s, salt mining and extraction brought a large labor force to the peninsula, an activity that lasted several decades. Although hard to imagine today, there was a narrow gauge train used for transporting salt from the salt flats to port. The arrival of the First World War along with the concept of refrigeration changed the way food was conserved and transported and the need for salt was greatly diminished.
During this thriving period of salt extraction in Peninsula Valdes, Puerto Piramides was an extremely important and active port town, much more so than Puerto Madryn, until the town was almost completely abandoned. Once meat, fowl and other food were being stored with refrigeration there was no longer a need to salt and cure for storage and the business of salt trade practically disappeared in the peninsula. A town that reached a population of over 3000 individuals, one of the most populated areas in all of Patagonia at that time, vanished like a mirage in the desert in a matter of a few short years. To get a better idea of the dimensions and historical importance of this port town, today we are approximately just 500 habitats, one-sixth of its previous population and in its heyday, Puerto Piramides had a large market known as "La Anonima", what is now the most important chain of supermarkets in all of Patagonia.
In 2003 the Puerto Piramides Light and Power Cooperative recognized "El Español" as a site of historical importance. This bar and hostel are more than 110 years old having survived the economic and population ups and downs over the course of time.
Just a handful of individuals weathered through the economic bust in this isolated and windswept corner of the world, finding a way to survive and continue a peaceful lifestyle surrounded by nature, they had no idea that another moment of glory was yet to come. Eco-tourism and the title of World Heritage Site brought Puerto Piramides full circle and back to the geographical epicenter of activity in the Peninsula. After 4 decades of inactivity, tourism and the concept of nature tourism began to take hold, stimulate and attract new inhabitants to the area. Little by little the activities of wildlife observation and whale watching in particular generated interest in the unique nature of the Peninsula Valdes. Once again making history, Puerto Piramides has regained its importance, although this time thanks to eco-tourism.