The weeks prior to the launching of Whale Watching Season, the amount begins to be more numerous in the 2 gulfs that form the Peninsula Valdes. Daily the number of whales in Puerto Madryn and the entire coast, up to Puerto Piramides is increasing.
The fall every day that passes, more established and the whales enjoy the peace of this paradisiacal place. Although the concentration of animals is very large in general, the highest density of whales per square kilometer in the world is undoubtedly the El Doradillo Protected Natural Area, which, between May and July, has the highest award in the world in a number of whales.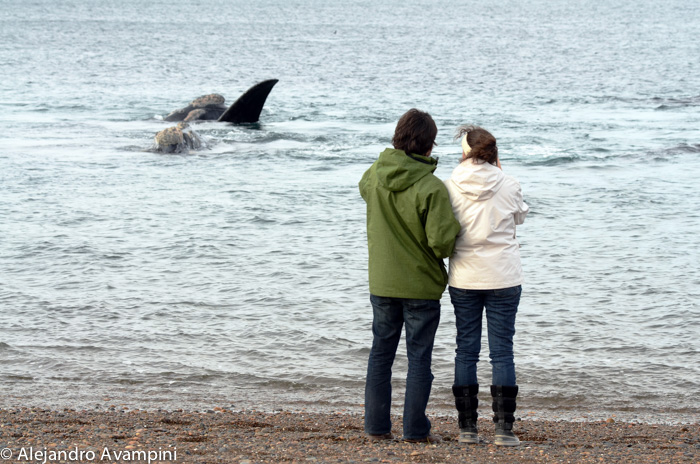 In this area and time of year, a few meters from where the sea water rests on the beach, you can see a unique concentration of right whales, all mothers with calves. The person who experiences it is speechless. In one of the most sensitive and magical cycles of their existence, these marine giants approach the mainland. Allowing people who come to this beach, to witness master classes of harmony.
The daily lessons of how to educate the calves with maternal love and infinite patience, giving them breastfeeding and helping them to perfect the maneuver of going out to breathe air, among other basic survival patterns, are moving. Uses and customs that right whales are transmitted from generation to generation, since the beginning of time. The protected area is determined by the coastal geographical accident known as Punta Arco, which is located about 20 km from the city of Puerto Madryn. It covers an area parallel to the coast of 1.8 mi ( 3 km ) wide and about 15.5 mi ( 25 km ) long, passing Punta Ameghino, known for its wilderness and reaching Punta Prismatico, where the coastal circuit of provincial route No. 42 closes, occupying a total area of 18.500 ac ( 7,500 ha ).